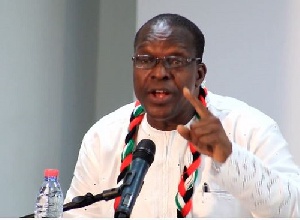 Mr Alban Kingsford Sumana Bagbin, the Second Deputy Speaker of Parliament and National Democratic Congress (NDC) Flagbearer Hopeful has said he would put Volta Region at its rightful place when elected Flagbearer of his Party and as President of the country in 2020.
He said the NDC had learnt bitter lessons with Volta Region and that he was ready to take care of the "spirit" of the Party in the Region, place the Region at a rightful place, for a better future.

"The spirit of NDC is in the Volta Region and if you take care of the spirit, you will have a better future…We know the root of our Party is here. So I'm here to tap the root. I know if we water the roots well, the tree will grow and we will have beautiful fruits," Mr Bagbin said when he paid a courtesy call on some Asogli chiefs in Ho, ahead of his meeting with some members of the NDC.

Mr Bagbin, who is also the Member of Parliament for Nadowli/Kaleo promised a "team leadership" and called for support from the traditional rulers.
He said his vision was to tap the wisdom of traditional rulers to develop Ghana's local governance system and put chiefs at their right place in local governance.

Mr Bagbin noted that governments were running faster, leaving chiefs and the people behind and underscored the need for chiefs to be located and given leadership in local governance.