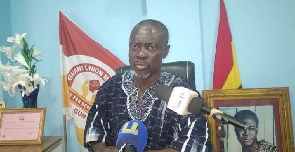 Reverend Kwabena Andrews popularly known as Osofo Kyiri Abosom, the founder, and leader of the Ghana Union Movement (GUM), has announced his intention to take legal action against President Nana Addo Dankwa Akufo-Addo should he attain the presidency in the future.
According to him, he is surprised about Akufo-Addo's decision to dismantle judges' buildings in favor of constructing the National Cathedral, an initiative that he contends lacks significance.

He emphasized that if voted president, he would pursue legal action against Akufo-Addo over the National Cathedral controversy.

"If I become the president one day, I will take him (Akufo-Addo) to court over the National Cathedral issue, because why will he go and demolish the judge's building to build the said Cathedral, Cathedral for what?

"All the churches will collapse very soon because we have waited upon the Lord for long and there are no benefits to that effect."

He further proposed the idea of establishing laws that would restrict church services to specific days, notably Sundays, to consolidate the religious experience.
In his own words, "If it is possible, we should make laws that nobody should go to church on any other day except Sundays. If you will choose Friday, then only Fridays. So, we know that definitely Saturdays and Sundays belong to Christians."

He further suggested that restricting church activities to specific days would reduce noise levels on other days and contribute to a more peaceful environment.


I will take Prez Akufo-Addo to court if I am voted to power for wasting money on National Cathedral - Reverend Christian Kwabena Andrews (Kyiri Abosom)#UTVNews pic.twitter.com/HTxzxFzQXw

— UTV Ghana (@utvghana) August 8, 2023
AM/SARA
Watch the latest episode of The Lowdown on GhanaWeb TV below:





Watch the latest episode of Legal Agenda on GhanaWeb TV below:




Watch the latest edition of BizTech and Biz Headlines below:





Share your news stories and ideas with GhanaWeb


To advertise with GhanaWeb