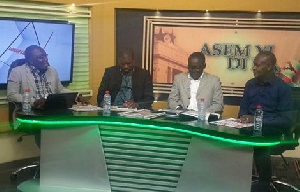 The next pairing of Nii Amasah Namoale and Nana Fredua on any political show is likely produce a nauseating experience, the former has threatened.
Former MP for La Dade-Kotopon says he is ready to descend into the gutters with Nana Fredua if he dare heckles him again.

The threat to play in the "gutters" with Nana Fredua, comes after the former MP found it hard to contain the series of interjections he received from him ATV's political show dubbed Asem Yi Di Ka.

In an attempt to stop Hon. Nii Amasah Namoale from describing Senior Minister-designate, Hon. Osafo Marfo as an "arrogant man", Nana Fredua found an enemy in the former MP for La Dade-Kotopon.

Hon. Nii Amasah Namoale brusquely stated that it was wrong for Hon. Osafo Marfo to embarrass Hon. Samuel Okudzeto Ablakwa when he appeared from the Vetting Committee last Friday.

During the proceedings, Samuel Okudzeto Ablakwa made reference to what Mr. Osafo Maafo described as "frivolous propaganda" allegations that he (Osafo) supervised two major financial scandals.
He questioned Mr. Osafo Maafo's role in the CNT/CI loan and MacMillan debacle under the erstwhile Kufour regime.

In a quick riposte to the North Tongu MP, Mr. Osafo Maafo silenced the MP suggesting that he was too young to understand the details of the two issues at the time.

"I think you were too young at the time to understand the issue," he stated.

He was later made to retract his comment to Mr. Okudzeto Ablakwa, which was considered "unparliamentarily", and apologized to him.

Despite his apology, Hon. Nii Amasah Namoale, still claims Mr. Osafo Marfo is arrogant.
"If you are arrogant, in whatever you do it would come out. If someone asks you a question, in humility you should answer it. If you don't know the answer, you have to make that fellow aware.

But if they ask you question about MacMillan and you answer the fellow with phrases like didn't you listen to my press conference? What do you mean? Then it shows you are arrogant", Hon. Namoale said.

The explanation didn't sit well with Nana Fredua who interjected to inform Hon. Namoale not to use the "arrogant" tag on Mr. Osafo Marfo. He further asked Hon. Namoale not to misrepresent Osafo Marfo on the show by twisting his words.

The interjection fired Hon. Namoale to respond by stating that "one day I descend into the gutters with Nana Fredua. If you have inferiority complex or superiority complex, I won't allow you to exhibit it on me".