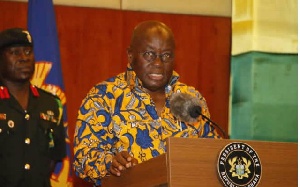 Private legal practitioner and a member of the New Patriotic Party (NPP) in the Ashanti Region, Nana Yaw Osei has said, nothing will stop him from criticizing the Akufo-Addo led government.
"I will continue to criticize the government constructively….nothing can stop me from doing that", he vowed on Kumasi-based Abusua FM show hosted by Kwame Adinkra.

According to the spokesperson of the embattled National Chairman of NPP, some elements both in government and the party are painting a picture as if all is well for Ghanaians under this current government.

"If you listen to some of our party members they speak as if the free Senior High School is all Ghanaians need", he said.

"I am saying the free education policy is not in the best shape and I will suggest it must be done well then we are seeing now", Lawyer Nana Yaw Osei suggested.

"If you come to my alma mater, Prempeh College students are still sleeping outside instead of dormitories. …day students are not getting their one square meal as we are told", the former Ashanti Regional Chairman of the Ghana Journalists Association claimed
Free SHS education has been one of the top priorities of the ruling New Patriotic Party (NPP) government as it was a major campaign tool prior to 2008, 2012 and the 2016 elections respectively.

The NPP after winning the 2016 general elections said it is determined to roll out the programme that seeks to give free Senior High School education to about 400, 000 students across the country.

However, some individuals and groups both within and outside the party have warned the government to make better preparations to ensure its sustainability. A former defence minister, Dr Kwame Addo Kufuor, who is also a staunch member of the party earlier this year warned.