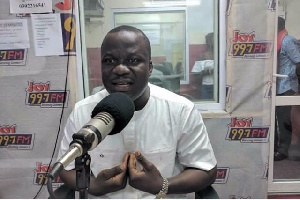 After being proved by the Criminal Investigations Department (CID) the alleged corrupt Deputy Chiefs of Staff, has stated not to sue Kwame Asare Obeng (A-Plus) over his false allegations.
According to him, he leaves the alleged corrupt case in the hands of Ghanaians to judge the actions by the hiplife musician after the case had been proved fruitless and baseless by CID.

His comments follow calls by Johnson Asiedu Nketia, General Secretary of the National Democratic Congress (NDC) that the two Deputy Chiefs of Staff, Francis Asenso-Boakye and Abu Jinapor, must sue A-Plus, following the corruption allegations he has levelled against them if indeed, they are not corrupt.

According to Mr Nketia, if the allegations are false, the two officials must fall on the law against defamation and bring a civil action against the musician in order to clear their names. Until that is done, it will be construed that those allegations are true.

He told Accra FM on Friday, September 29 that: "If the two officials claim the allegations are not true, what are they doing about it? They will need to sue in court to really indicate that they are innocent. So long as they have not taken up that action, we will deem it to be true."
He added: "Abu Jinapor and Asenso must be sacked from their position until thorough investigations have been conducted into the matter. From what is happening, clearly there has been a cover up in the initial investigations."

However, speaking on Joy FM, Mr Abu Jinapor said: "I am not too sure about a suit but you may never know."

He added: "Some of these things, if you want to follow, you will develop hypertension."

He further stated the development does not bother him too much because the police subjected them to thorough investigations.