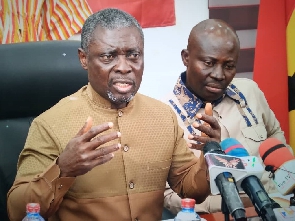 Leader and founder of the Life Assembly Worship Centre, Christian Kwabena Andrews, alias Osofo Kyiri Abosom, has promised to prosecute President Nana Addo Dankwa Akufo-Addo for causing financial loss to the state if he becomes president.
According to him, Akufo-Addo has caused financial loss to the state with his decision to let the construction of the National Cathedral proceed.

Speaking in an interview on UTV, on Wednesday, Kyiri Abosom, who founded the Ghana Union Movement (GUM) said that because of the construction of the cathedral, many structures that the state spent millions of cedis on, were destroyed.

"If I become president one day, I would take Akufo-Addo to court over the cathedral. Why would you destroy structures put up for judges, with the country's resources, to build a cathedral?

"Look at the amount of money spent to build the resident for the judges… cathedral for what," he said in the Twi dialect.

The pastor added that the because of the action of Akufo-Addo, churches in Ghana would collapse.
"Churches in Ghana would soon collapse because we have mocked God for a long time… there is no benefit from this cathedral."

Watch the interview below:


I will take Prez Akufo-Addo to court if I am voted to power for wasting money on National Cathedral - Reverend Christian Kwabena Andrews (Kyiri Abosom)#UTVNews pic.twitter.com/HTxzxFzQXw

— UTV Ghana (@utvghana) August 8, 2023
BAI/NOQ
Ghana's leading digital news platform, GhanaWeb, in conjunction with the Korle-Bu Teaching Hospital, is embarking on an aggressive campaign which is geared towards ensuring that parliament passes comprehensive legislation to guide organ harvesting, organ donation, and organ transplantation in the country.

You can also watch the latest episode of Everyday People on GhanaWeb TV below: