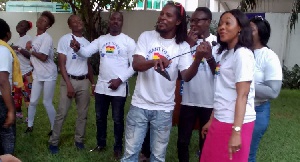 The Institute of Economic Affairs (IEA) has as part of activities to broaden public participation in its presidential debate this year, launched a campaign dubbed: 'I Want To Know.'
The aim of the campaign, according to the Executive Director of IEA, Jean Mensah, is to promote citizens ownership of the electoral process.

Speaking at the IEA on Friday to launch the campaign, Mrs. Mensah explained that the campaign also seeks to encourage the citizenry to send in questions they would like to ask the presidential and vice presidential candidates if they could speak directly to them.

"Questions from the general public can be submitted through the following channels: Facebook: IEA Ghana, Twitter: @IEA Ghana, email:election2016@ieagh.org.

This year marks the fifth consecutive time the IEA is holding presidential debate in the country.

The IEA, DAILY GUIDE gathered, believes the 'I Want To Know' campaign will enable the electorate to demand accountability of the candidates even before one of them is elected president.
"Additionally, this approach will ensure that the real concerns of the citizens are addressed by the candidates," according to IEA.

Meanwhile, Reggae singer, Nathy Borax has released a song titled: 'Mr. Politician' to support the campaign.

In the song, the singer called on politicians contesting this year's elections to make their intentions for the country, when they are elected into power, clear to voters.

He talked about the high level of corruption, starvation and suffering in Ghana and called on all parties to make December 7 polls an issues-based one rather than one of political insults.

He lamented that Ghanaian youth continue to struggle to gain employment due to the mismanagement of the economy by the current government.