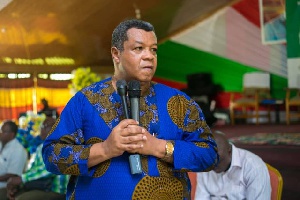 Flagbearer hopeful of the opposition National Democratic Congress Goosie Tanoh has observed that he has labored for the party and its grassroots to the extent that issues concerning grassroots is in his blood despite his resolve to uplift the less privileged in society which makes him the right choice for the party.
"Vote for me, I am a grassroots man. Grassroots is in my blood, throughout my life, I have sacrificed to uplift and empower the less-privileged in our society. I am not saying these things just to win an election, it is my life, I started mobilising people at age 19 during my university school days," Mr Tanoh told delegates in Kumasi covered by MyNewsGh.com

In his estimation, the party can win 2020 general elections if the delegates elect a candidate who has the party at heart reiterating that he is the only candidate who has the ability to win power for the party in 2020 if he elected as flagbearer.

He attributed the NDC 2016 election defeat to the lack of vibrancy at the grassroots of the party amidst apathy among some party members.
Mr Tanoh, addressing delegates of the party at the Center for National Culture in Kumasi as part of his seven-day campaign tour in the Ashanti Region, pointed out that he was the right person to reinvigorate the grassroots members who have been neglected by the party's top hierarchy.

He promised to reward the grassroots members when the party is in power launching a blistering attack at those engaged in vote-buying and other corrupt acts to smoothen their paths to victory encouraging delegates to support the efforts at re-energising the grassroots by paying their party dues to support activities of the party both in government and out of government.

Mr Tanoh hinted that if the NDC grassroots insist on a clean campaign devoid of vote buying among others, the party would become attractive to the core constituency of floating voters who, according to him, determine the outcome of presidential elections in Ghana