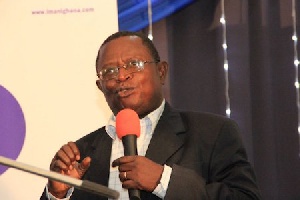 Civil society group, Institute for Democratic Governance (IDEG), has called for the inclusion of political parties in district level elections to strengthen democracy in Ghana.
The current law bars partisan politicization of local elections.

But, according to IDEG, the participation of political parties in local elections will strengthen democracy and eliminate the winner takes all phenomenon in Ghana's politics.

A senior research fellow at IDEG Dr Kwesi Jonah addressing stakeholders at a round table conference on "Strengthening Democratic Development through Multi-Party Based Local Government" stated that the current system has outlived its usefulness.

"Leading politicians, political parties, civil society organizations like IDEG and prominent Ghanaians have all raised their voices for reforms in the system, claiming that in its current form the system has outlived its usefulness.
"The main cause of popular objection to the present system is that in its present form, Ghana's decentralized local government system is grossly inappropriate foundation for the multi-party democratic political system that we are currently operating in the country.

"The second major objection has to do with the exclusion of political parties from participation in the district level elections, which is a clear case of political exclusion and lack of inclusiveness in district level democracy," Dr. Jonah said.

Meanwhile, Local Government analyst and former President of NALAG George Kyei Bafour has lauded the proposal.

He, however, warned of dire consequences for nation building and total development if the current status quo is maintained.