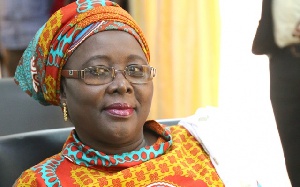 A former Government Appointee at the Ejisu-Juaben Municipal Assembly, Richmond Frimpong, has petitioned the Commission for Human Rights and Administrative Justice (CHRAJ) to investigate Madam Beatrice Serwaa Derkye for allegedly bribing Members of the Assembly to get her nomination approved as the Chief Executive for the area.
According to him, the nominee at a meeting with almost all the Members of the Assembly at the Anita Hotel on Thursday, May 11, 2017, allegedly paid some money and sought for their support to become the next Municipal Chief Executive of the area.

Each elected Member, he noted, was offered GH?2,000.00 with each Government Appointee taking home GH?500.00.

The alleged act, Frimpong argued, cannot be allowed to gain grounds in the country's contemporary politics and therefore wants it investigated in order to bring an abrupt end to it.

Below is the petition Frimpong wrote to CHRAJ

Regional Director of Commission for Human Rights and Administrative Justice
Kumasi

Ashanti region

Dear sir/madam

Petition against Madam Beatrice Serwaa Derkye, the president's nominee to ejisu juaben municipal assembly on a bribery scandal.

Respectfully, I Richmond Frimpong, a native of Abenase in the ejisu juaben municipality, write to officially petition your highly esteemed office to launch an investigation into a bribery scandal hanging on the neck of the above named person.
On 11th of May, 2017, the president 's nominee to the ejisu juaben municipal assembly met almost all the assembly members of the Municipality at Anita Hotel to seek for their support to become the next Municipal Chief Executive of the area.

After a successful deliberation, the person in question gave each elected member 2000 cedis and government appointees 500 cedis as a form of bribe to get her confirmed on Friday 12th May, 2017.

On the eve of her confirmation, her driver, approached me to give me a white envelop with the inscription, Hon Richmond Frimpong (Government Appointee) containing cash but I rejected the said white envelop at the washroom of the assembly because I could not attend the said meeting at Anita hotel the previous evening.

Subsequently, I contacted a colleague government appointee Hon George Opoku Amponsah who confirmed that he took the envelope and is ready to submit the said envelope and its content as evidence.

I therefore request your office to investigate into this matter to bring an abrupt end to this seemingly uncultured behavior which is gradually gaining grounds in our contemporary politics.
The real character of a person is best known when he's infuriated.

I hope my request would be honoured in due time before her next confirmation this week.

Thank you,

Singed

Hon Richmond Frimpong
(X- Government Appointee)