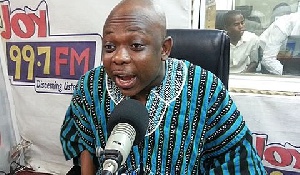 Member of Parliament for Builsa North Constituency in the Upper East Region, Hon. James Agalga says it was irresponsible on the part of President Akufo-Addo to have traveled overseas for international business amidst internal security problems in the country.
According to him, it is over a week since the Ayawaso West Wuogon by-election which was characterized by violence was held; yet the President of the Republic has not paid the victims who sustained various degrees of injuries a visit.

Commenting on Radio Gold's 'Alhaji and Alhaji' political talk show, Hon. Agalga recalled the only comment made by President Akufo-Addo has to be the congratulatory message given to the winner of the by-election.

But the former deputy Interior Minister found it detestable that President Akufo-Addo, having secured the mandate of the people in the 2016 general elections, is not living up to his responsibilities as a father for all.

"Even though if you look at the mandate of the President, yes, he is responsible for the conduct of the international relations of the country, but you would only do that when everything is well at home and so where the internal security situation of your country is not conducive enough, you don't go about conducting the international relations of your country in the manner that the President has sought to do," he fumed.
"So for me, I wish to observe that the President's decision to leave Ghana at a time when armed thugs were deployed under his own supervision and watch to unleash brutality on innocent Ghanaians whose only crime was that they came out to exercise their constitutional mandate of participating in an election to determine who their Member of Parliament will be, is very irresponsible, to say the very least," he chided.

To him, given that the President is chairman of the National Security Council, the proper thing for him to have done was seeing to the stabilization of the security situation back home first, before attending to international business affairs.

" ....our President is simply not bothered; he cannot be bothered at all. Wouldn't it have been good if President Akufo-Addo visited the victims of that dastardly attack in the hospitals? Is it because the attack was unleashed by the secretariat of the body that he chairs [national security council]?...is it because the violence was directly unleashed under his watch?" he rhetorically asked.