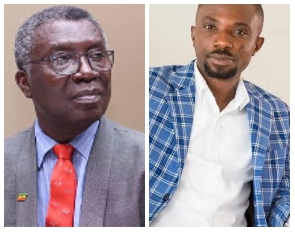 The Director of Local Government Services at the Office of the President, Dennis Miracles Aboagye, has expressed disappointment over the damning report on illegal small-scale mining authored by former Minister for Environment, Science, Technology, and Innovation, Professor Kwabena Frimpong-Boateng.
According to Miracles Aboagye, the report contained baseless claims without any factual basis to support them.

"So, someone who wanted a job but couldn't get…he was asked to go and bring a report for the reason why he couldn't perform. When he went, he just wrote baseless things without facts just to suit him.

"If we gave you a job in 2018, 2019, or 2020, is not within your working period that you're supposed to write a report about the progress of the job, so, just in case there is any help, then you can be helped out. But you wait for the person to tell you that you couldn't do the job before you will justify yourself by saying things.

"…the fact that you submitted the report in 2021 means that, the work you couldn't perform," he said.
Speaking during a panel discussion on Peace FM's Kokrokoo programme on April 27, 2023, Miracles Aboagye expressed surprise that Professor Frimpong-Boateng would attempt to tarnish the image of Member of Parliament for Ofoase Ayeribi Kojo Oppong Nkrumah by writing false claims about him without any evidence to support his allegations.

He maintained that Kojo Oppong Nkrumah is one of the few MPs who is actively involved in the fight against galamsey so he wonders why Professor Frimpong-Boateng will accuse him of sabotaging his work in the fight against the galamsey activities.

He further criticized the behavior of Frimpong-Boateng, saying that his actions are unbecoming of an elderly person.

"I get reports from all of the assemblies in Ghana, and if you want an MP who is actively involved in the fight against galamsey, Kojo Oppong Nkrumah is among such people. So how do you even pick a pen and a piece of paper trying to impugn Kojo?
"He said he was called and informed that Kojo Oppong Nkrumah was having a meeting with some media persons to sabotage him…

"Is that how an elderly person talks? is that how an elderly person behaves? You have written this…you are tarnishing the person's image and destroying his credibility while what you are saying, you claimed someone called, to a point where the person was also called by a third party," he added.

Prof Frimpong-Boateng had said in his 37-page report to the Chief of Staff that Kojo Oppong Nkrumah had orchestrated a media onslaught against him since he was the "last man standing" in the galamsey fight."

Parrying the accusation, Kojo Oppong Nkrumah said in a statement: "Over the years, I had nothing but great admiration for Professor Frimpong-Boateng's public-spirited works and as an inspirational citizen. I feel gravely offended over the false claims he has made and the hurtful conclusions he has sought to exact about me precisely because of the great esteem in which I have held him."
The Ofoase Ayirebi MP added: "I trust that in the coming months and years, he will reflect deeply upon his own actions and comments which have led to his challenges. He should kindly leave me out of his personal fights. I am utterly disappointed, but I forgive him."

Meanwhile, watch the latest episode of People and Places on GhanaWeb TV below:




Watch the latest episode of The Lowdown below:






AM/SARA