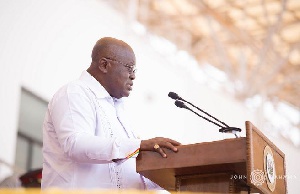 President Nana Addo Dankwa Akufo-Addo has observed that the time is ripe for Africa to take the lead in generating for herself the additional funds needed to advance, as the continent is well-resourced in natural and human resources.
Africa, President Nana Addo Dankwa Akufo-Addo said, must build robust institutions to protect herself, strengthen the capacity of her geological services to determine exactly what and how much resources the continent has, and establish legal departments in governments that will ensure African countries get their due in contracts that they sign.

Delivering a speech at Chatham House last Thursday, on the theme "Financing for Sustainable Development of Africa", President Akufo-Addo noted that the global development finance architecture created almost four score years ago by multilateral and development finance institutions, is not fit for the scale of work needed to transform the continent into an Africa Beyond Aid.

"In the process, we can draw on the expertise of private practitioners. We must strengthen our tax authorities to counter tax avoidance practices such as base erosion and profit shifting by multinationals. In other words, we must entrench the rule of law. The plethora of unbalanced contracts, with their pernicious effects, has to cease, if we are to realise our vision of rapid socio-economic development," he added.
Whilst striving for increased domestic revenue mobilisation, and leveraging on technology to strengthen the performance of revenue institutions, the President stressed that "we must also be mindful how the revenues are spent and accounted for. The institution of transparent budget and expenditure management systems, that allocate resources wisely to agreed national priorities, and that ably monitor their implementation, is, therefore, of the utmost importance."

Africa, President Akufo-Addo said, must invest in education and emphasise the importance of exposing African youth to Technical and Vocational Education and Training (TVET) because that is where the skills needed for the modern economy can be developed.