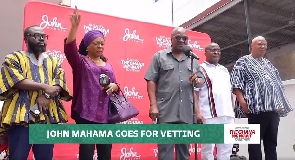 John Dramani Mahama has spoken about his appearance before a vetting committee of the National Democratic Congress (NDC) describing it as "a very serious interview."
The three-time NDC flagbearer added that the March 27 vetting involved him answering questions on the party, the NDC's parliamentary caucus and matters to do with the nation at large.

"I have just come out of the vetting session required by the party for all those who have filed their nominations," he said after the session before thanking donors and party faithful who continued to support his bid in cash and kind.

On the interview proper, he told a gathering at the party headquarters where he was interviewed: "I was asked questions about the party, how to strengthen the party. I was asked about Parliament, how to strengthen our group in Parliament.

"And most of all, I was asked about the country, my views for repairing our damaged economy and also improving governance in Ghana. It was a very serious interview and I do think that because of the experience I have, the committee must have been impressed."

He reiterated his call for all competitors to come together after May 13 to support the winning candidate and to ensure the party secures victory come 2024.

Mahama will come up against three contenders in former finance minister Kwabena Duffour, former Mayor of Kumasi Kojo Bonsu and a businessman Ernest Kweku Krobea.
You can also watch this episode of People & Places here:



Watch the latest episode of The Lowdown below:



SARA