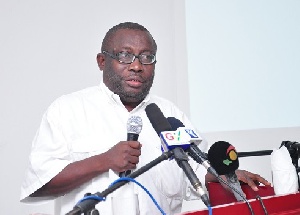 The Convention People's Party ( CPP) Policy Analyst, Yaw Adu Larbi has flayed the party's Director of Elections, James Kwabena Bomfeh, for deliberately withdrawing his commitment to electoral issues in the party.
Adu Larbi says he's in doubt whether Kwabena Bomfeh is indeed the Director of elections, as he has, since the party's congress at Sunyani, not acted in the full capacity as the manager of the CPP's electoral matters.

He said lately, the party can no longer count on Bomfeh, popularly known as Kabila, with matters regarding elections.

"When we had the last IPAC meeting, Kabila was supposed to be part of the team formed to represent the party at the programme, but he eventually disappointed the party. I still wonder what really stopped him from attending such an important meeting. We later had to fall on other party members for the meeting," he told sit-in host Yaa Serwaa Akoto on Anopa Kasapa on Kasapa 102.3 FM on Friday.
Kabila has said that Yaw Adu Larbi, the party's delegate at the function, failed to speak authoritatively on the voters register.

He claimed the party's representative who stepped in the shoes of the General Secretary at the forum could have done a better job if he had done proper consultations with party officials on the subject.

He said, "I'm sure very soon the chairman and leader of our party will speak authoritatively on the subject".