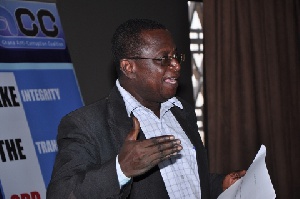 A senior research fellow with the Institute of Democratic Governance (IDEG) Dr Kwesi Jonah has cautioned President John Mahama against replacing Vice President Kwesi Amissah-Arthur as running mate going into the 2016 elections.
The governing National Democratic Congress (NDC) has tasked Mahama to initiate processes leading to the naming of his running mate for next year's elections.

"The party will strongly advise his Excellency the president to trigger the process of making our running mate known so that we can prepare ourselves for the elections in 2016," the General Secretary of the NDC Johnson Asiedu Nketia told the media.

The party believes early naming of a running mate will afford it adequate time to prepare ahead of 2016. A lot of names have come up as to who should partner Mahama. Prominent among them are Foreign Affairs Minister Hanna Tetteh, former Chief Executive of the National Health Insurance Authority Sylvester Mensah and deputy Chief of Staff Valerie Sawyer among others.

Speaking to Starr News, Dr Jonah said the current vice president has done enough to be retained.

"I think Amissah-Arthur has so effectively partnered the president in this past three years that changing him will send a very wrong signal to the voters," Dr Jonah said.

He, however, stated Mahama has the liberty to change his running mate.
"The choice of a running mate is the prerogative of the president, of course, he takes advise from the party but that's the prerogative of the presidential candidate so if he wants to change Amissah-Arthur he can go ahead and do it but the truth of the matter is that Amissah-Arthur has so effectively partnered the president that I don't think it's necessary at all to change him," Dr Jonah argued. .

The political scientist went further to caution such a change will be detrimental to the fortunes of the party in 2016.

"If the President claims to have done very well in office and don't forget he is in partnership with the vice president, the vice president has effectively supported him in every way. I have seen Amissah-Arthur chairing very important meetings that the president should otherwise have chaired and it's wonderful.

"He has done very well. So if he changes Amissah-Arthur, it will send wrong signal to the voters, to party members, and so on and so forth. I don't think the President wants to take this upon his head right now."

President Mahama received an overwhelming 95% endorsement, having polled 1,199,118 'Yes' votes representing 95.10% in the party's primaries over the weekend.