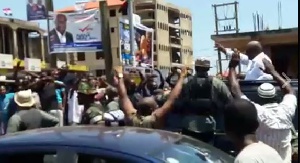 The ruling NDC has reacted to the hooting at President John Mahama by some NPP supporters at Kokompe in Accra, saying the party will not descend to the level of the opposition party.
Hundreds of traders and residents in the NPP stronghold on Tuesday shocked the President by waving the change sign when he stormed the area to campaign.

The bewildered President had no choice than to wave at the charged crowd from the roof of his SUV vehicle as the traders continuously rolled their hands to signal change; a slogan of the opposition New Patriotic Party. A video of the incident has gone viral.

Reacting to the development, the campaign coordinator of the NDC Kofi Adams said the crowd was motivated by the teachings of their flagbearer Nana Akufo-Addo.
"Look, if that is the way we'll do our politics then Nana Akufo-Addo cannot go to all places in this country to campaign. Because there are NDC supporters everywhere, when we got to Kokompe there were huge NDC supporters following President Mahama but the indiscipline Nana-Akufo Addo has preached to his supporters led them to misbehave towards the president," Adams said.

He added: "We were just passing through the area, where the incident happened is a known NPP spot as they had hoisted a big flag of Akufo-Addo, so clearly the people were NPP supporters who wanted to embarrass the President. But just as Michelle Obama said. When they go low, we go high, when they do their all-die be-die stuff, we'll show them that we are matured and we do clean politics."