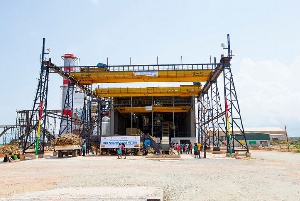 The opposition New Patriotic Party (NPP) will pay in the November presidential and parliamentary polls, for its rabble-rousing against the Komenda Sugar Factory, the governing National Democratic Congress' Central Regional Chairman Bernard Allotey Jacobs has warned.
The NPP has raised questions about the viability of the factory, reopened in May, saying the challenges that led to the collapse of the company had not been addressed. It accused the government of seeking to make political capital with the early inauguration of the plant as it "will not be operational anytime soon".

The Minority in parliament, at a press conference addressed by Professor Gyan Baffour said the proximity of the plant to the sea would subject it to the vagaries of the weather, thus, make the taxpayer incur huge maintenance cost. The Minority also cautioned about food insecurity in the area, saying the shift from multi-crop production to sugarcane as a monocrop, was risky.

But Mr Allotey Jacobs, who is also a board member at the Factory, said the criticisms were viewed as a threat by the people of Komenda and surrounding communities, to their livelihoods, adding that the NPP would be made to bear the political ramifications for its stance.

"You can't spite the faces of the people and then go and tell them to vote for you when they are dependent on the new factory that has come up to enrich their socio-economic lives in their respective areas. You can't go and spite them and tell them it is not viable and expect them to vote for you," he said on Accra100.5FM's morning show, Ghana Yensom, on Tuesday June 21, 2016.

"I am happy the NPP are rabble-rousing about this Komenda Sugar Factory, I am the happiest person."
He said from the doubts expressed about the success of the factory, he would "ask the people to protect the factory very well because that is their legacy".

Mr Allotey Jacobs wondered why the NPP continued in their pessimism about the factory, despite the fact that farmers were supplying sugarcane to the plant for production of "both brown and white sugar". He also shot down talk that the factory would not be able to obtain the needed supply of electricity for its operations. According to him, plans had been completed to ensure that 3MW of power would be generated from the sugarcane husk, of which 2MW would be used in powering the factory and nearby towns, while 1MW would go to the national grid.

Thus, he continued, the NDC was on its way to thrashing the NPP in the November polls, adding that the NPP Member of Parliament (MP) for Komenda Edina Eguafo Abirem, Dr Ato Arthur, will shed "unprecedented tears in his political life".

"So, I urge the NPP to go on, and if they are blind, we will deliver them come 7 November. Then their eyes will open to the realisation that people appreciate whatever government does for them," he said.