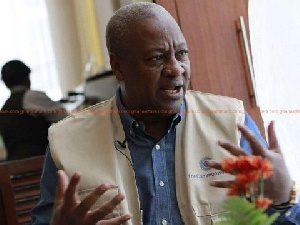 Former presidential staffer under the President John Mahama led administration, Dr. Clement Apaak is upset with persons blaming and trolling the former President for the annulment of Kenya's presidential polls.
"What nonsense, did JDM [John Dramani Mahama] write the constitution of Kenya? Is he the Kenya's EC! Focus your attention on fighting the army worm infestation", Builsa North lawmaker took to his facebook wall.

The Ghana's former President has become a subject of troll on social media especially Facebook, following the outcome of an election petition in Kenya which was rule by the Supreme Court on Friday, September 1, 2017,

John Mahama, who was head of a 15-member Commonwealth Observer Mission, said the elections were conducted in a fair manner and implored Mr. Odinga to accept the results and allow the process to stand.
But the outcome of the ruling from the court has called into question the credibility of the assessment made by the observers.

Though the former president's pronouncement was made on behalf of the group, it has not stopped some Ghanaians from trolling him and have described him as an "incompetent observer" who made "incompetent" decision over a disputed result.


Related Articles: