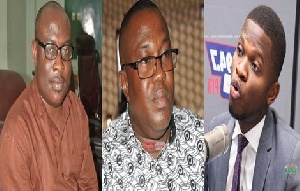 National Chairman of the National Democratic Congress (NDC) Mr. Samuel Ofosu Ampofo, has been officially charged by the Criminal Investigations Department (CID) of the Ghana Police Service.
Speaking in a telephone interview with Peacefmonline.com, Public Relations Officer for the Police CID, DSP Juliana Obeng, disclosed two other executives of the opposition party, Mr. Sammy Gyamfi and Mr. Kwaku Boahen, National Communications Officer and Deputy Communications Officer, respectively, have also been charged by the police.

"They have all been charged with conspiracy to commit crime with kidnapping intent and conspiracy to commit crime with threat of harm," she said.

Consequently, she added, the duo have been asked to "cease" reporting themselves to the CID headquarters.

The Police CID, it would be recalled, extended a formal invitation to the NDC National Chairman to assist with investigations in a leaked audio that captures him allegedly conspiring with party members to harm political opponents and also inciting supporters to attack certain officials including the Chairperson of the Electoral Commission.
The police have said some of Ofosu Ampofo's comments have implications on national security.

"Fake, Doctored & Illegal Espionage"

Already, the NDC has said the tape is "doctored" and "fake".


The opposition party's initial comments were that its offices had been bugged following the circulation of the recordings and accused the government of engaging in illegal espionage.

Sammy Gyamfi, told Neat FM's Akwasi Aboagye, in an interview on the 'Ghana Montie' Morning Show, in the last week of February, that the NPP with the help of state security have planted secret recording devices in some offices at their head office to monitor their proceedings.

"This is against the law. This is undemocratic," he said.

Samuel Ofosu Ampofo was initially slapped with four charges over the explosive audio recording.
He was facing charges of "threat of harm, conspiracy to commit harm, rioting and assaulting a public officer".

Background

A leaked audio purported to be the voice of the NDC's National Chairman, caused shock waves among the public after it went viral nearly a month ago.

The leaked tape which is believed to be from a meeting held at the NDC's headquarters days after the infamous Ayawaso West Wuogon by-election violence, captures leading members of the opposition party allegedly planning strategies the NDC will use to regain power in 2020.
Mr. Ofosu-Ampofo, who could be heard speaking to some party members without equivocation, noted the NDC will target lives of NPP members in 2020 since state security cannot protect them.

According to him, another delicate aspect to win the 2020 election is targeting the EC Chairperson, Madam Jean Mensa.

"We must wage a relentless war on this EC Chair, me she doesn't want to see my face . . ." he told the party gathering.