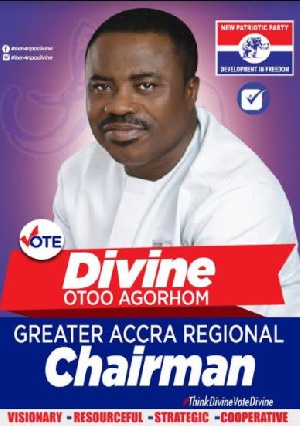 An aspiring candidate for the position of Greater Accra Regional Chairman, Mr Divine Otoo Agorhom, has called on party leaders and colleague aspirants to eschew tribal and ethnocentrism from our body politics.
Mr Agorhom said, it is sad to note that, certain individuals and groups would even conceive this idea of pushing a tribal agenda for a particular group and discredit others. He said the 1992 constitution enjoins us all to live as one people with a common identity irrespective of one's religious, tribal, religious or social background,thus it's unfortunate to note these developments.

Mr Agorhom made these comments when he met with party delegates in the region to solicit for votes.

The ruling new patriotic party will in some few weeks from now, be electing new officers to lead the party at the regional level. So far, about five(5) people have openly declared their intentions of contesting the position of regional chairman of which Mr Agorhom is one.

Divine Agorhom who made these remarks as an answer to a question posed by a delegate who wanted to know his take on the fact that his opponents are campaigning that they should vote for true Ga indigenes.

But Divine in a response said "The party, the New Patriotic Party is a liberal party which is widely known as the champions of democracy and tolerance in Africa. The party was founded by people from different backgrounds and till date, membership and composition is made-up of people from all ethnic groups and backgrounds. The Greater Accra region is the most urbanized and cosmopolitan region in the country with people from all other parts of the country, with indigenes rather belonging to the minority as far us population is concerned. It is therefore not proper to campaign or sort to do politics on tribal lines."

He used the opportunity to advice party members and leaders to refrain from such conducts as it has the tendency to bring division instead of uniting the people. He said, this is an intra-party election and as such, members should be cautious of what they say as they may need the help and support of all after the elections.
Divine Otoo Agorhom cautioned delegates to be cautious of such individuals who peddle such sentiments and advised them to vote for a candidate who is vibrant, resourceful, hardworking and results oriented to lead the region to ensure they retain current parliamentary seats and increase the numbers in the next elections as well as secure another victory for president Akufo Addo in the 2020 elections.

He Divine Otoo Agorhom is a three-time parliamentary candidate for the Sege constituency for the NPP and a former 1st vice chairman of the Greater Accra Region. As parliamentary candidate he played an additional role as a member of the regional elections committee for both the 2012 and 2016 and in 2016 He was the ONLY candidate that served on that committee. He also served as a National council member for two terms

He is the chairman of COB-A group of companies, he has to his credit, a post graduate diploma in Business Admin and an Executive Masters in Governance and Leadership.

Though a private business man, he stood his grounds and openly served the party all through the 8 years in opposition, and never hid his support or membership of the NPP.

His financial and logistical support for the NPP is an open secret and he promises to even do more when given the nod to serve as the greater Accra regional chair