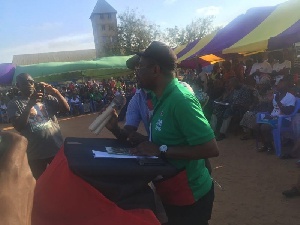 The Member of Parliament for South Tongu Koby Mensah Woyome has called on National Democratic Congress (NDC) supporters to vote against the opposition NPP in the upcoming December polls.
He said the NDC has a better record in government than the NPP hence the need to keep President John Mahama in power to steer the affairs of the country.

Mr. Woyome was speaking at the inauguration of the South Tongu campaign team at Sogakorfe in the Volta region.

He highlighted development projects executed under former Presidents JJ Rawlings, the late John Evans Atta Mills and current President John Mahama across the country as evidence to give the incumbent another term.

Mr Woyome mentioned the extension of electricity to remote communities, the provision of potable water, the construction of schools and hospitals as some of the developments brought to the constituency by the NDC government.

The legislature seized the opportunity to invite investors to take advantage of tourism opportunities in the South Tongu constituency to create jobs for the youth.
"We have enough water bodies and tourism sites in this area. It is important for investors to come here and take advantage of the opportunity that abounds in tourism," he stressed.

On his part, the Volta regional communications officer of the NDC, Mr Makafui Agbleze challenged residents of the region not to pay attention to the NPP who continue to "peddle lies to win votes".

He explained that the NPP does not seem to have any policy direction hence could "look into the faces of Ghanaians and promise anything that comes to their mind".

Mr Agbleze urged NDC activists to be focused and tout the achievements of Mahama to the electorate ahead of the December polls.