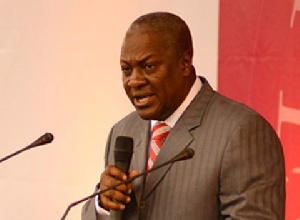 President Mahama yesterday chided the Municipal Chief Executive (MCE) of Sunyani in the Brong-Ahafo Region, Kwesi Oppong Ababio, as being a quick-tempered man, though he said the MCE is a hard working man.
The president made the remark when he interacted with the chiefs and people of Abesim, near Sunyani, on the second day of his five-day campaign tour of the region.

Addressing the people after the teachers' awards ceremony, the president urged them not to entrust the nation into the hands of Nana Addo Dankwa Akufo-Addo, New Patriotic Party (NPP) flag bearer, whom he (president) referred to as Opana, saying he (Nana Addo) has divisive tendencies.

He said Nana Akufo-Addo is not a unifier because he could not manage a united party that former President Kufuor left for him. He claimed that the NPP leader is intolerant of dissenting views and would sack anybody who disagreed with him on matters concerning the NPP.
President Mahama said he is tolerant because he tolerates dissenting views expressed by members of the NDC.

He described the NDC as the most united and formidable party in the country today and so people should vote for him and the party.

According to him, the Brong-Ahafo Region has benefitted from a lot of development projects under his leadership and asked the people to renew his mandate for a second term. He later introduced the MCE as the NDC parliamentary candidate for the Sunyani East Constituency.