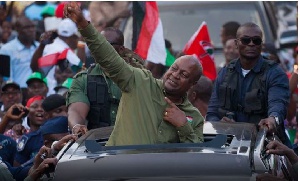 President John Dramani Mahama will Monady (Today) begin a two day tour of the Central Region.
This will be the second phase of his tour of the region in the lead up to the December 7 election.

The Central region has been described by many as a swing and critical region in determining who wins the December 7 election causing the region to experience a lot of political activities, all aimed at winning majority of votes in the region.

Just last week, the Vice president Amissah Arthur spent five days in the region galvanising the base of the party in winning majority of seats and popular votes in the region and he is followed by his boss the president.
President Mahama during his two day tour of the region will commission eight (8) community day schools as well as other projects being undertaken by the NDC government in the last four years .

He will also hold rallies at many places to address the region on what they stand to gain when he wins a second term bid in office.