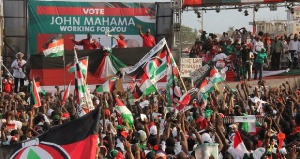 We bring to the attention of the public a serial destruction of bill boards, banners and posters of our Parliamentary candidates as well as that of our President, John Dramani Mahama by some unknown assigns in the Eastern Region.
This trend though alien to us in the region is fast rearing its ugly head much to the displeasure of all of us.

Citing just but few examples, our Parliamentary Candidate for Okere Constituency's bill board erected at Trom was pulled down overnight.

Banners hanged by our Parliamentary Candidate for Fanteakwa South have all been torn down. This particular incident has been reported to both the Chief of Dwenasi and the Osino Police command.

Still in the Fanteakwa South Constituency, a bill board mounted at Ehiamankyene has been removed and replaced with that of the incumbent NPP MP. This has also been accordingly reported to the police as well as the chief of the area.

In the Atiwa East Constituency, same can be said of our banners, boards and posters within the Anyinam township and at a town called Adasewase.
Our Parliamentary Candidate for Nkawkaw too has not been spared of this unfortunate development. An official complain has been lodged at the Nkawkaw central police station.

And the list continues!

We are particularly disgusted by this development because the party as well as our Parliamentary Candidates have committed substantial financial resources into these things hence the destruction of same comes at a huge loss to the party.

We are compelled at this stage to instruct our party faithfuls to serve as *"Umbrella guards"* at all places where our billboards et al are located in other to protect them since the countless complains lodged at the Police stations don't seem to be an enough deterrant!

We are cautioning those behind this act as well as our political opponents to disist from this shameful act since its continuity will obviously destroy the peace and tranquility we are currently enjoying because our people may have no other option than to retaliate.
As a responsible party, we have always maintained that election is not about violence nor hooliganism.

We shall continue to conduct ourselves in a responsible manner and abide by all the rules of the game but states categorically that our gentle posture should not be mistaken to be a weakness!

– NDC/Eastern Region