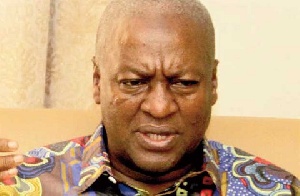 Deputy Minister for Education in charge of General Education, Yaw Osei Adutwum, has described comments made by former President Mahama as a lack of understanding on the workings of the free Senior High School (SHS) policy.
"He lacks understanding on the issue", Dr. Adutwum told Kweku Owusu Adjei on Anopa Kasapa on Kasapa FM Monday.

Addressing party faithful at the Cape Coast North constituency in the Central Region during a tour ahead of his party's presidential primaries, Mr. Mahama promised to review the policy if elected President in December 2020.

He argued that the policy is struggling because government failed to assemble experts and stakeholders for a national conference on education to deliberate on the policy.

"Our NPP friends, they don't listen to advice, they think they know everything… We just finished vacation. Children have been at home for nearly three months. It is time to go to school you say you have to stay at home for nearly 41 days and let your friends go. After 41 days they will come home and sit down….it doesn't make sense," he criticised.

However, Dr. Adutuwm disagreeing with the suggestions by the former leader said, "there is the need to brief the former president on how free SHS and double track system works".
He says the comment by Mr. Mahama was triggered out of the lack of understanding on free shs as well as the double track system.

"I am surprised he made those comments, this could be borne out of lack of understanding and if he needs someone to brief him, I am available", he said.

Dr Adutwum, urged Mr. Mahama to declare his true intentions as to whether his review of the policy meant abolishing it or addressing certain expects of it.

"With this blanket statement, there are questions we need to ask, I'm sure many people will want to know whether he intends abolishing the policy or not. There are parents who are at this time confused by what he said. I will ask him to tell us what exactly what he seeks to do with the review", he questioned.