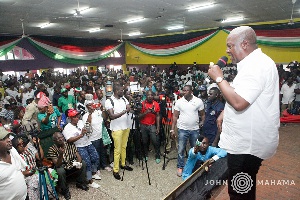 Former President John Dramani Mahama is promising to ensure the regulation of the artisanal small-scale mining sector, better known as 'galamsey' in order to provide sustainable employment for the youth.
He says this will ensure that artisanal mining is environmentally friendly to the country's water bodies, among others.

Addressing separate meetings of mining communities in the Upper Denkyira East and West constituencies in the Central Region as well as Obuasi East and Obuasi West constituencies in the Ashanti Region on Monday, Mr. Mahama said his government resorted to new ways of tackling the galamsey problem when it became clear that using the military to clamp down on them was not going to provide a long-term solution.

He added that his government therefore considered a new legal regime for addressing the issue.

"But the current government is promising a new policy and we are hoping that they implement it to allow small scale miners start working immediately. If not, the NDC government to be formed after the 2020 general elections would implement a new regulation to enable the small-scale miners work effectively", he announced.


Mr. Mahama who is on a four-day campaign tour of the Ashanti Region ahead of the flag bearer election of the NDC, also bemoaned the harsh economic conditions prevailing in the country and promised to work hard to reduce the high cost of living, when elected in the 2020 elections.