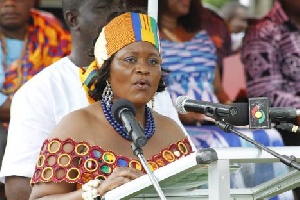 Former Volta Regional Minister Helen Adwoa Ntoso has condemned the violence that rocked the Ayawaso West Wuogon by-elections last week, saying the blood spilled during the elections will continue to "be on the head of those who sanctioned the attacks."
Mrs Ntoso who was speaking on Inside Politics on Monday observed that although about six (6) members of her party, the opposition National Democratic Congress (NDC) were shot in the early hours of Thursday, party members should desist from inciting the party members, especially the youth.

"We keep on praying for this country," the Karachi West MP said as he bemoaned explosive comments from some persons in the party.

She said vengeance was not important since the blood that spilled during the shooting incident continue to be "on the heads of the perpetrators."

Mr Mahama had earlier warned the NDC could be more violent and rowdy than the NPP hence the need for the ruling government to desist from such brutalities.

"I want to sound a caution that NDC has a revolutionary root and when it comes to unleashing violence no one can beat us to that," Mr Mahama said cautioned.

But reacting to the comments of former president Mahama over the barbaric acts, Mrs Ntoso who is also an ordained pastor, advised that the former president should desist from saying the NDC will match its fiercest opponents "boot for boot."
Instead, she said Mr Mahama should resort to the Biblical quotation in Exodus 21:24 which speaks of an " Eye for eye, tooth for tooth, hand for hand, foot for foot."



CHRAJ

However, the Commissioner for Human Rights and Administrative Justice (CHRAJ), Joseph Whittal, has described calls for former President John Mahama to apologize for his post-election violence "boot for boot" comment as "unfair."

Mr Whittal who was speaking to Francis Abban on Starr FM disclosed that it was unfair to demand an apology from Mr Mahama when same was not demanded from others including the Interior Minister and the National Security.

"I don't think his statements are in good taste. But to then call upon him to apologize when we have not called on National Security to come and apologize for this brazen attack on democracy, I don't think it is fair," said Mr Whittal.