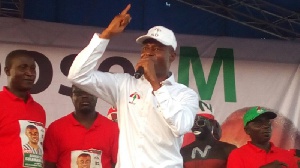 The NDC parliamentary candidate for Bole-Bamboi Alhaji Issifu Sulemana (Ori) has said his team will embark on an exercise to educate voters on how to vote on election day in order to reduce the menace of spoilt ballots.
This he says will ensure an increase in the percentage votes of the NDC in the constituency which happens to be the home constituency of the president John Dramani Mahama.

Alhaji Ori who was speaking at the party's campaign launch in Bole on Sunday said, this has become necessary following the high incidence of spoilt ballots in the last election in 2012.

The NDC has set an 85% target for the president in this year's elections which is higher than the percentage the party got in the 2012 election when the party got a little over 74% for the president. This the party attributes to the number of spoilt ballots recorded that year.

The candidate therefore says he is not leaving anything to chance.
On the quality of the two leading candidates seeking the mandate of Ghanaians in the elections, Alhaji Ori described the NDC candidate Mahama as a unifier while his contender Nana Akufo-Addo is a divisive leader.

According to him, President Mahama has been able to unify his siblings to push their father's legacy forward while in the case of Nana Addo he has not been able to unite his siblings.

Other speakers at the function included, George Lawson (deputy secretary of the party), Alhaji Mohammed Limuna (Agriculture Minister), Chief Sofo Azorka and a host of party big wigs.