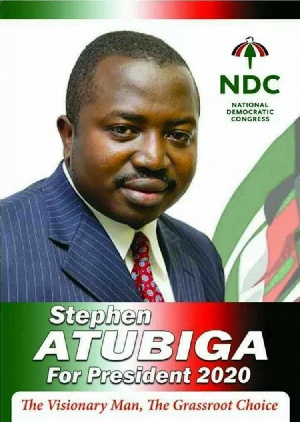 A member of the National Democratic Congress (NDC) communication team and a presidential hopeful, Mr. Stephen Atubiga has accused media houses of being bias towards "poor presidential aspirants'' of the NDC.
According to Mr. Atubiga in a Facebook post, indicated that most media houses have focused their attention on aspirants who have looted from the state when they were given the opportunity to serve.

"Some of the Media houses are being selective against us the poorest presidential aspirants. They are running after and projecting others who looted to be rich when the opportunity was given them to serve this country. For reasons best known to the Media houses being selective", He lamented.

He, however, stated that despite not enjoying the media attention, he is confident that he will win the 2020 flagbearer bid of the National Democratic Congress.
"The same selective media houses will be chasing and trying to front me after I have won the election as the candidate of NDC Soon, And President of Ghana''.

Stephen Atubiga was sentenced to 3 days imprisonment in 2013 after he was found guilty of contempt of court charges by the Supreme Court during the election petition period.