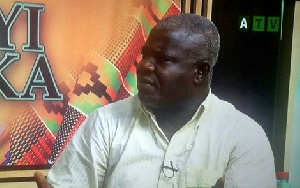 Thu, 9 Mar 2017 Source: ATV
Mismanagement has been a major factor behind the economic hardships Ghana continues face, Nana Boadi, an executive of the Progressive People's Party has said.
Ghana produces gold in large quantities but our slump as developing country, leaves a lot to be desired. It is on this note that the Greater Accra 2nd Vice Chairperson of the PPP has said "we have no excuse to justify our poverty. We are where we are today because of mismanagement".

Contributing as a panel on ATV's Asem Yi Da show, Nana Boadi explained that he is unable to understand why a country gifted aplenty with such natural resources would be swimming in abject poverty.

"We were once the Gold Coast- no country had money like us and I don't expect us to be poor", he opined.
He continued that Ghana is part of the leading countries in the world that produces gold but our economic status reflected a different story when compared to others who have the same resources.

"Check the first ten countries in Africa that mine gold, Ghana is part of it after you can do the same in the world and you would find Ghana in it. But look at the status of the other countries who mine gold and you can tell development is rampant there unlike what we experience", he sadly said.

To turn our economic situation around, Nana Boadi advised that we must change our attitude in managing our resources.
Source: ATV