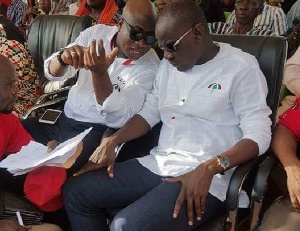 Defeated lawmaker for Nanton Constituency of the Northern region and outgoing Deputy Minister of Trade and Industry, Murtala Muhammed Ibrahim is blaming elements within the National Democratic Congress (NDC) for machinating his defeat at the just ended polls.
He believes such individuals have for a long time been seeking his exit from parliament just after a 4-year term wondering what he has done to those persons to deserve such a treatment.

The outspoken legislator, who won the seat in 2012, lost the seat to New Patriotic Party (NPP), Parliamentary candidate for the area Mohammed Hardi Tuferu.

It would be recalled that the Minister in December last year went berserk on a Tamale-based radio station claiming some persons he failed to name were orchestrating his downfall.

He lashed out at some Chiefs of Tamale for allowing their conscience to be bought by what he termed "ill-gotten, filthy money" of an MP who he said was the chief architect of the plan.

According to him, the chiefs are hypocrites and dared to disregard their calls if he starts speaking out against the conduct of the said MP who is championing efforts to make him unpopular in the Nanton constituency he has committed a lot of resources into.
"Do they know how much I spend in my constituency? What business do they have in other people's constituencies" He asked.

According to him, the opinion leaders who should have spoken against the conduct of the MP in question were silent because their conscience had been traded off for cash from doubtful sources warning that they dare not stop him if he starts opening the can of worms.

"Who the fuck does he think he is?" He asked

His public outburst has since earned him the nickname "impeccable academic record"