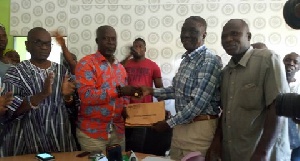 A former Western Regional Chairman of the National Democratic Congress (NDC), Nana Toku, who is aspiring to return to the regional chairmanship position, picked his nomination forms at the regional office of the party yesterday to contest the position during the party's regional delegates' congress later this year.
The former NDC regional chairman will contest the position with the incumbent chairman, Michael Aidoo, aka Big Aidoo, who is alleged to have declared his intention to vie for the position during the congress.

A teeming crowd followed Nana Toku as he went to pick his forms at the party's office in Sekondi yesterday.

Most of the activists of the NDC had allegedly been calling for the return of the former chairman to continue his good works.

Addressing scores of party supporters, Nana Toku reiterated the need for the NDC to be united even after the internal elections and assured delegates of an all-inclusive engagement with party members.

He noted that the region needed a committed and loyal leader, as well as a unifier, who could unite the rank and file of the party, so that with a united front, members could go into the 2020 elections with greater confidence.
He recounted that the region had always been the decider of elections in the country.

He pledged to strive to bring on board the NDC elders in the region and solicit their views so that the party could win majority of the seats in the region in 2020.

He then appealed to the delegates to elect him as the regional chairman since the party in the region needed a grass-root person such as himself.

According to him, having served the NDC for many years, he was the right choice for the position of Western Regional NDC chairman.

He, therefore, urged the delegates to give him their mandate to serve the party to ensure victory in the 2020 elections.