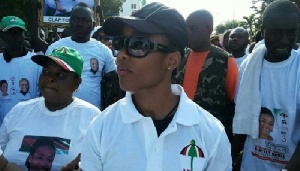 A group of branch executives in the Klotty Korle constituency in the greater Accra region have threatened to vote skirt & blouse against the parliamentary candidate Dr. Zanetor Rawlings over what they describe as diversion of money meant for them by the daughter of the NDC founder.
The group alleged at a press conference at the government school, Adabraka, Accra on Sunday that money which was sent to constituency executives by the national executives of the NDC on November 30th 2016 was kept by the parliamentary candidate They also threatened not to vote for Dr. Zanetor Rawlings who they accused of not acting in the interest of the NDC party and President John Mahama. "Zanetor Rawlings has not yet been elected as our MP but look at how she is treating us. She has not been transparent with us.

Instead of GHc1000 sent for each branch, she chose to give Gh500 to some few branches and kept the rest of the money to herself because she claims she is using it for so-called health screening exercise." spokesman for the aggrieved Klottey Korle constituency branch executives Nana Kwame alleged.

The group also disclosed that they know that Dr. Zanetor Rawlings will not vote for President John Mahama since her mother and NDP flag bearer Konadu Rawlings has been campaigning in the constituency for herself and Zanetor against the President.

It is for this reason they believe the parliamentary candidate has refused to make the party funds available to the branch executives of the party.
They also do not understand why the national executives of the NDC gave money meant for branch executives to the parliamentary candidate rather than the constituency executives who are the right people within the party structure to receive and transmit such resources.

With less than two days to the presidential and parliamentary elections, the NDC in the Klottey Korle constituency remains divided with Dr. Zanetor Rawlings choosing to work on her campaign with selected constituency and branch executives of the party whiles ignoring those perceived to have opposed her during the rancorous primary contest which saw her emerge as the parliamentary candidate to succeed incumbent Nii Armah Ashietey.

Dr. Zanetor Rawlings faces NPP's lawyer Philip Addison who appear to have the full backing of his party in the constituency and branch executives of his party in this swing constituency.