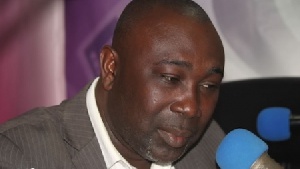 The Head of Corporate Communications of the Volta River Authority (VRA) Samuel Fletcher has been elected the parliamentary candidate of the National Democratic Congress for the Gomoa West Constituency in the Central region.
Provisional results collated from the 34 polling centers in the constituency put Fletcher at 4,494 votes as against the incumbent Francis Kojo Arthur's 1,284.

Meanwhile, deputy finance minister Kweku Ricketts Hagan has been re-elected in the Cape Coast South constituency. He garnered 5104 votes as against Thomas Hughes Amisah's 796.
Counting is still underway in many of the constituencies across the country.

Over two million delegates of the ruling party voted in over 200 constituencies today to elect presidential and parliamentary candidates to represent the party for the 2016 elections.