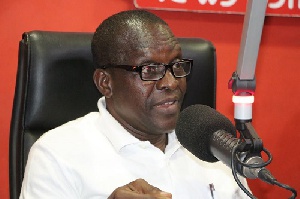 The Chiefs and Opinion Leaders in Nkwanta in the Volta Region who have followed the activities of the opposition National Democratic Congress (NDC) since its inception have appealed to the rank and file of the party to fully support the Second Deputy Speaker of Parliament, Hon. Alban Sumana Kingsford Bagbin, to win the vacant flagbearer position of the umbrella family.
To them, Hon. Bagbin's continuous stay in Parliament for the past twenty-five (25) years is an indication that he is a very good man and has been doing things right the way his constituents want them to be.

They believe that an extension of the people's mandate across the length and breadth of the country, especially, the kingmakers of the NDC, will enable the Nadowli/Kaleo lawmaker to lead and win power for the NDC in the 2020 general elections.

"We have monitored with keen interest the activities of Hon. Bagbin and we can only conclude that he is a very good man. If he is not a good man, his constituents would have voted him out of office long ago. His continuous stay in office as the NDC MP for Nadowli/Kaleo is a true indication that he is a very good man and loved by all. We the chiefs and elders of Nkwanta know him very well and will follow and support him to achieve all that he wants. I will therefore appeal to you all, to also support him", one of the Chiefs of Nkwanta remarked while welcoming Hon. Bagbin to the area.

Another Chief of the area who also spoke appealed to Hon. Bagbin to help develop Nkwanta since the people of the area have been neglected for far too long by successive governments.
Hon. Bagbin who had declared his intention to contest the vacant flagbearer position of the NDC stormed the Volta Region on Tuesday, August 14, 2018, to begin his campaign with Nkwanta being his first destination.

Addressing the chiefs and people of Nkwanta, the Second Deputy Speaker of Parliament urged the people to critically examine what has gone wrong that has led to the party losing votes in the Volta Region and proffer a solution to it.

To him, there is something wrong that needed to be corrected, stressing that it is not good to work with somebody for years and later dump that person for another person who doesn't even believe in your policies.

Rewarding loyalty, he noted, should be the best way forward.