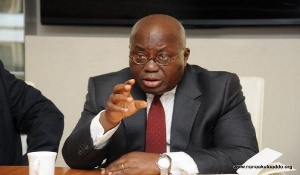 The Minority is accusing Akufo-Addo of making inaccurate claims about the debt in the energy sector in a bid to conceal the true state of affairs.
According to the NDC, the president has sought to mislead the public about the exact state of affairs The Minority in Parliament has challenged President Akufo-Addo to come clean on the actual debt his government inherited from the erstwhile John Mahama administration in the energy sector.

Speaking at a forum held in Canada, President Akufo-Addo claimed that his government inherited a $5.2 billion debt in Ghana's energy sector from the Mahama-led administration. He went on to suggest that half of the inherited debt has been cleared since the NPP assumed office, while "the remainder hanged on the neck of his administration like an albatross."
However, the Minority has strongly rejected Nana Addo's claims and have taken exception to the figures put out.

A statement signed by the Ranking Member of the Mines and Energy Committee, Adam Mutawakilu, accused the president of trying to shirk responsibility for "the incompetence he has displayed in the management of the country's energy sector." "The Minority Caucus is unable to accept the president's claim of $5.2 billion energy sector debt created by former President Mahama during his tenure," sections of the statement read.