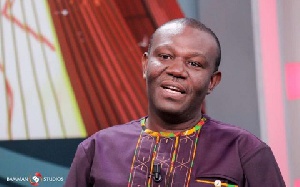 After submitting his resignation letter to the Speaker of Parliament on Monday, June 18 to announce his intention to resign from Parliament, the National Democratic Congress (NDC) Member of Parliament for Ho West in the Volta Region, Emmanuel Bedzrah, was begged by the party hierarchy to rescind his decision for the sake of the party.
DAILY GUIDE learnt that when the resignation letter was made public by the media on Tuesday, an emergency meeting was held between some top party members, including leadership of the minority in parliament and the MP to resolve the problems which might have triggered the sudden resignation of the Ho West MP.

After some crucial talks leading to the resolution of the concerns of the Ho West MP, he decided to back down on his threat to resign and remain in the Seventh Parliament which will end in January, 2021.

The MP had allegedly raised concern about attempts by some national executives to kick him out of parliament because of his perceived opposition to another presidential term for former President John Mahama

He had allegedly complained about the intention of the national office of the party to conduct fresh branch elections in the constituency after realizing that majority of those elected into offices at the branch level were his sympathisers which meant that he would automatically win the party's primary again to stand on the party's ticket.

The MP's constituency was therefore excluded from the general constituency election by the party across the country to be conducted on Saturday, June 23.
It was one of the 17 constituencies that elections were said to have been put on hold because of some problems and petitions filed at the party headquarters.

But after the meeting with the MP, the green light was given for the Ho West elections to go ahead as scheduled with the rest of the country.

The party's General Secretary, Johnson Asiedu Nketia was all over the air, Wednesday, apologizing to the MP for the 'mistake.'

He, however, confirmed that the MP had indeed threatened to resign but the problems had been resolved for him to remain in parliament and serve the party.

The party gurus might have also taken into consideration the resources that would have been wasted on another bye-election and quickly moved in to resolve the problem for sanity to prevail.