NDC can observe social distancing till next year, IPAC meeting will go on without them – Kofi Akpaloo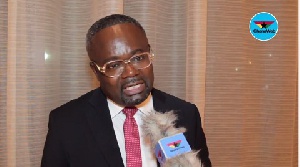 Founder and Leader of the Liberal Party of Ghana, Kofi Akpaloo has emphatically stated that the proposed Inter-Party Advisory Committee (IPAC) meeting scheduled for tomorrow (Wednesday), will be held with or without the presence of the National Democratic Congress (NDC).
According to him, the NDC's decision not to partake in the meeting, will not thwart EC's agenda for the day saying; "they [NDC] are not the only party in Ghana.

"The IPAC meeting will go on without them. Maybe they are observing social distancing and they can do that till next year," he added in an interview with NEAT FM's morning show 'Ghana Montie.'

NDC out of IPAC meeting

The NDC says it will not attend the IPAC meeting at the behest of the EC.

The larget opposition party therefore wants the meeting to be suspended indefinitely until further notice in compliance with the directive by the president for all public gatherings to be suspended over the outbreak of COVID-19.
Speaking on Okay FM's 'Ade Akye Abia' programme, the deputy General Secretary of the party, Peter Boamah Otokunor said officials of the party will not risk their lives to attend the meeting in a 'small room' in the wake of the COVID-19 pandemic.

Meanwhile, the EC has invited fifteen parties to attend the planned IPAC meeting on the compilation of the new electoral register, Wednesday.

Parties to attend IPAC meeting

The meeting, which is expected to be held at the IPAC room of the EC, will attract all registered political parties including; the New Patriotic Party (NPP), National Democratic Congress (NDC), Convention People's Party (CPP), Progressive People's Party (PPP), People's National Convention (PNC), Liberal Party of Ghana (LPG), Great Consolidated Popular Party (GCPP) and Ghana Union Movement (GUM).

The rest are the Every Ghanaian Living Everywhere (EGLE), United Front Party (UFP), Ghana Freedom Party (GFP), National Democratic Party (NDP), All People's Congress (APC), United Progressive Party (UPP), and Power United Party (PUP).