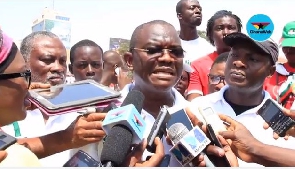 NDC Presidential Hopeful, Mr. Sylvester Mensah has stated that the NDC party does not need a one term leadership. He believes good people of Ghana needs to give more years to the NDC Party to be able to develop Ghana well to a better standard.
Speaking to Nana Yaw Kesse on Peace FM's Torchlight Show, Mr. Sylvester Mensah stated that the NDC and Ghana as a whole have critical challenges and therefore does not need a one term leadership for the party and the country.

According to him, the NDC is not in for a short term but needs long term leadership which helps the party carry out major policies aimed at tackling challenges facing the country.

He therefore called on party delegates and Ghanaians to see him as the solution as he is committed to providing a long term leadership for the party and help address issues affecting the country.

The opposition NDC goes to the polls in November this year to elect a flag bearer to lead the party in the 2020 elections.

Former President Mahama, who has already declared his intention to compete for the flagbearership position, is being contested by at least 10 other individuals for the slot.
NDC opens nominations for regional positions

The NDC opened nominations for the regional positions on Monday, July 16, 2018.

Kofi Adams, the National Organizer of the party, said the aspiring regional executives must present their forms by the close of next Tuesday.

"Nomination for regional executive position opens today, and prospective aspirants who are members of the party and qualify, per our regulations, can pick nomination forms today, tomorrow and Wednesday the 18th. After that, no one can pick forms for the regional executive position."

He also stated that the vetting of the aspirants will be done between August 1 and 6.


NDC elects constituency executives

The NDC elected its constituency executives in June 2018.

The process, along with the regional elections, is part of the party's process of electing national officers ahead of the 2020 elections.