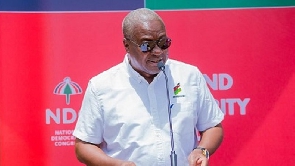 Former President John Dramani Mahama took his National Democratic Congress (NDC) flagbearership campaign to the stronghold of the ruling New Patriotic Party (NPP).
Mahama's office announced on March 17 that he had started a three-day campaign tour of the Ashanti Region.

"It will be phase one of his campaign in the region, and according to spokesperson Joyce Bawah Mogtari, Mr. Mahama will be meeting and interacting with branch and constituency executives in twenty of the forty-seven constituencies," an official statement read.

Mr. Mahama will on Tuesday join the royal families and people of the Savanna Region for the coronation of the newly enskinned YagbonWura before returning to Accra, the statement added.
Mahama is seeking the NDC's mandate to contest as its flagbearer in the upcoming 2024 elections. It will be his fourth consecutive run for the seat having run in 2012, 2016 and 2020.

He won the first and lost the others to incumbent President Nana Addo Dankwa Akufo-Addo. It is widely believed that he will win the primaries by a landslide with three contenders having also picked nomination forms.