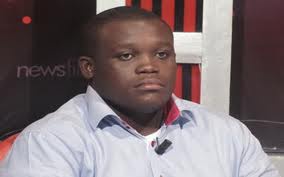 Mon, 22 Feb 2016 Source: kasapafmonline
Presidential Staffer, Sam George says the umbrella family no longer operates any vigilante group in the country to provide them security.
"For me, the NDC as I am aware has basically disbanded any political vigilante group in the party. Today, if you go to the national headquarters of the party, its only regular party foot soldiers who provide security there," he noted.

Speaking in an interview with Nana Aba Anamoah on State of Affairs on GHONE TV on Thursday, George said he has had the experience of political violence in his life before and would not support any vigilante group of any political party.

When asked by Anamoah about the role of the Azorka Boys in the NDC, the Presidential Staffer, who is also the Parliamentary Candidate of the ruling NDC for Ningo-Prampram said: "they are only a social grouping in the northern part of the country."

"The Azorka Boys that I know are not affiliated to the NDC. At all our conferences, we write to the Police to provide us with security".

Political vigilante groups have of late become a topical issue in the country because of the way and manner they carry out their activities.
Most of the violence recorded at political events could be associated with them.

While the Inspector General of Police (IGP) John Kudalor wants them to be disbanded, the outgoing Interior Minister, Mark Owen Woyongo, wants them to be registered so that their activities could be regulated.

Head of Research at the Kofi Annan Peace Keeping Training Center, Dr. Kwesi Anning, speaking on the issue on the same program said: "there is absolutely no basis for registering any politically affiliated vigilante group in the country."

"That will be a recipe for disaster," he added.

George commenting further on the issue said if there was any political party operating a vigilante group, "that is the opposition New Patriotic Party (NPP) and the not the NDC".
Source: kasapafmonline