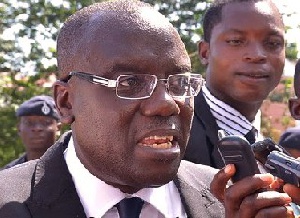 Thu, 21 Jan 2016 Source: GNA
Mr Kwadwo Owusu-Afriyie, former General Secretary of the New Patriotic Party (NPP) has claimed that National Democratic Congress (NDC) peddled falsehood, propaganda and vain promises to win Ghanaians votes in 2008 and 2012 elections.
Mr Owusu-Afriyie affectionately call Sir John said after using all tricks to deceive the good people of Ghana NDC has failed to govern the country as expected.

He made this known when addressing durbar of chiefs and people of Gomoa Lome and Gomoa Dahom to climax the Annual Akwambo festival.

The former General Secretary said the NDC under President John Dramani Mahama has not been able to deliver the social contract it entered with Ghanaians to improve their lives.

He represented Nana Addo Dankwa Akufo-Addo, NPP Presidential Candidate who, he said was invited to attend the festivals but equally important assignment did not permit him.

He expressed regret that NDC had failed miserably and noted that the Mahama-led government has nothing to offer the good citizens of Ghana.
Mr Owusu-Afriyie said President Mahama has not been to find solutions to the prevailing socio-economic conditions.

He said the NPP led by Nana Akufo-Addo have men of substance who could turn the fragile economy round when given the nod.

He called on Ghanaians, especially the chiefs and people of Gomoa Central to vote massively for Nana Akufo-Addo and Naana Eyiah Quansah, NPP Parliamentary Candidate for Gomoa Central to better their lot.

He stated that it would be proper for Ghanaians to vote for Nana Akufo-Addo on November 7, to form incorruptible, competent and transparent government.

He urged Ghanaians to vote against corrupt and bribery NDC government to pave way for reliable, honest and truthful one to resuscitate the hopeless economy.
Mr Owusu-Afriyie presented GH?2,000.00 each on behalf of Nana Akufo- Addo to Gomoa Lome and Gomoa Dahom to support their developmental projects.

Naana Eyiah Quansah, Parliamentary candidate for Gomoa Central appealed to the chiefs and the people of Gomoa Lome and Gomoa Dahom to vote for her and the flag bearer n the general election.

She said an NPP government would never disappoint the chiefs and the people of Gomoa Central in the areas of health, education, better roads and quality environmental health and sanitation.

The NPP Parliamentary Candidate stated that Gomoa Central in the Gomoa East District would see tremendous developmental programmes and policies that would facilitate creation of jobs and social interventions.
Source: GNA