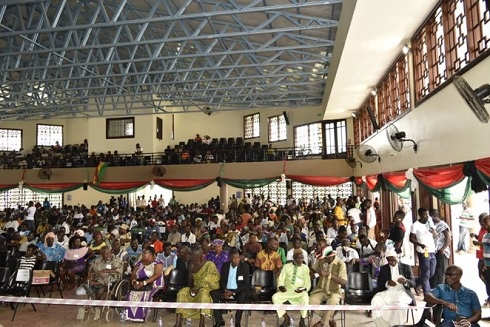 Mon, 25 Jun 2018 Source: Jonathan Ofori Kanrah Anyimah
The Member of Parliament of the Ellembele constituency and former Minister of Energy and Petroleum, Emmanuel Armah Kofi Buah says the just ended NDC's constituency elections is a very critical exercise in the ongoing reorganization of the Party.
He says the NDC believes that the process of reaching out to the grassroots is a very important effort to rebuild a unified party that is solid and formidable enough to win power in 2020. Mr. Armah Kofi Buah said this at the NDC's Ellembele constituency elections where new officers were elected to steer the affairs of the party.

Speaking after the elections Mr. Armah Kofi Buah said the success of the branch and constituency elections is an indication that the NDC has discovered the core ingredients that was missing.

He urged the newly elected officers to start serious work as early as possible to win back the heart of Ghanaians and also advised them to be committed and learn from their past mistakes as they engage the grassroots.

Mr. Armah Kofi Buah thanked the grassroots, the council of elders and the previous executives for the peaceful elections.

One thousand two hundred and twenty-eight delegates from eight zones participated in the constituency elections that saw the election of Alex Kwame Mahama affectionally called "Accounty" as the new chairman of the NDC in the Ellembele constituency.

He beat his closest contender and former vice chairman Godwin Beikwaw Ndo by almost 500 votes.

Mr. Mahama in his victory speech thanked the delegates for the confidence they had in him and pledged to work together with the past executives and the grassroots to ensure that the victory 2020 mission becomes a reality.

ELLEMBELE NDC CONSTITUENCY ELLECTIONS RESULTS
Chairman

Godwin Beikwaw Ndo Amihie-220

Alex Kwame Mahama_ 711

Kanrah Kwaw-55

Rejected-4

Vice chairman

Christian kortsu-399

Hayford Bonuah Goffah- 345
Solomon Forjoe-239

Rejected-9

DEPUTY WOMAN ORGANISER

- Stella Asmah - 18

- Gifty Kwofie - 89

- Paulina Nortey - 11

WOMAN ORGANISER

- Angelina Mensah -11
- Joana Barikisu Alhassan - 28

- Doris Kanrah Meah - 80

DEPUTY YOUTH ORGANISER

- Nicholas E. A Mawule - 50

- Samuel Amoah - 18

- Charlse Kwasi - 23

- Alex Karim Ayembila - 26

YOUTH ORGANISER
Jacob Enwunli Nwolley - 10

Amoseh Jerry John - 18

Rasmus Sanye Yankey - 45

Macdonald Kwofie - 45

ZONGO CAUSUS

Aboudoulaye Kablan - 516

Mumuni Tijani - 465
Source: Jonathan Ofori Kanrah Anyimah
Send your news stories to and features to . Chat with us via WhatsApp on +233 55 2699 625.