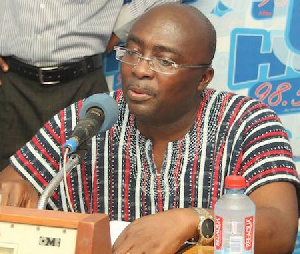 The Vice Presidential candidate for the New Patriotic Party (NPP) has advised Ghanaians to vote for a government that will solve their problems and not one that will add up to their problems.
Addressing Party faithfuls ahead of the December polls in Kunani at Salaga South on Tuesday evening, Dr. Mahamudu Bawumia stated that although the National Democratic Congress has been in power for 8 years, the people of the Northern Region cannot boast of social amenities such as good schools, good water systems, proper health care and better livelihood.

According to Dr. Bawumia, the President who hails from the Northern region has done little in terms of helping his own people.
He advised the electorate to vote for a government that will solve their problems and ensure the betterment of the people of the Northern region and not a government that is full of 'Wahala'