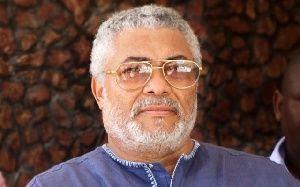 A former Ashanti Regional Chairman of the National Democratic Congress, Alhaji Mohammed Saani, has said the party was not founded by Former President J.J Rawlings.
The NDC stalwart declared that the founding fathers of the party were spread across the many constituencies in the country, hence the prevailing notion that Rawlings is the sole founder of the NDC is false.

According to a Daily Guide report, Alhaji Saani said the NDC's rightful owners are the grassroot soldiers in the small towns and cities across Ghana. Responding to the question on whether Rawlings' influence in getting the party to its solid foundation doesn't make him the owner of the party, Alhaji Saani responded: "if you form a company and float shares, the company automatically becomes the property of every shareholder so the NDC is not for Rawlings."

As such, the former NDC chairman noted it was time the public stopped attributing the ownership of the party to Former President Rawlings.
The NDC member also warned the former president to desist from throwing jabs at the party, as he believed these comments are meant to cause rifts among the branches of the NDC.

To him, Rawlings has shown no loyalty to the NDC, especially since he seems to have a very friendly relationship with President Akufo-Addo; a friendship Alhaji Saani believes, is not acceptable and should be probed.