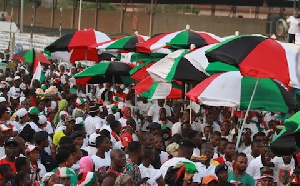 Sun, 17 Jan 2016 Source: GNA
Some disgruntled National Democratic Congress (NDC) members in the Akontombra constituency in the Western Region have sued the party's parliamentary candidate, Mr. Kenneth Yeboah, at Sefwi-Wiawso High court.
The Spokesperson for the group, Nana Kweku Duah, who is also the Constituency Deputy Organiser, told the media that the party's parliamentary candidate, is ineligible to contest on the party's ticket because he is not an active party member and had not voted in the constituency since 2004.

He also accused him of being planted by the opposition New Patriotic Party (NPP) because he was a member of the Tertiary Educational Students Confederation of the NPP Tertiary Education Students Congress at the university.

Nana Duah added that the members petitioned the Party's Vetting Committee before the parliamentary primaries but their action was ignored.

He said 15,000 members of the Party in the constituency had signed the petition to the high court and expressed the hope that they would be granted their request to disqualify Mr Yeboah from contesting the parliamentary election in November 7.
Meanwhile, Mr Japheth Baidoo, Regional Organiser of the NDC, said although a petition was received by the Party's Vetting Committee before the primary, the allegations raised against Mr Yeboah, were mere perception hence he was cleared to contest.

However, he promised to meet the aggrieved party members to settle the impasse amicably in order to retain the seat for the Party.

The embattled parliamentary candidate, Mr Yeboah unseated the incumbent NDC Member of Parliament, Harold Cobbinah in the party's primary in November last year.
Source: GNA