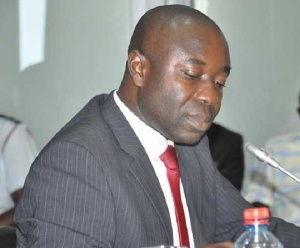 A former deputy Minister for Local Government and Rural Development, Mr. Emmanuel K. Agyakum, has proposed to the National Democratic Congress (NDC) to form a counter vigilante group that will neutralise the nefarious acts being perpetrated by the invincible forces of ruling New Patriotic Party (NPP).
Speaking on TV 3 Tuesday night, March 28, 2017, an emotional former deputy Minister narrated how a group of well built men accompanied by three uniformed police officers stormed his residence early Tuesday morning at about 6:00, in search of two missing state vehicles- a Toyota Prado and a Camry which they claim were in his possession.

He said though he explained to them that he had no such cars in his possession they did not believe him but instead demanded for documents to his personal cars which he provided them.

After a fruitless exercise the team abandoned their mission and left but not without stealing his gold worth GHC280,000 which he had kept in his car.

He said the men also threatened to beat up his wife when she asked them to produce a search warrant.

According to Mr. Agyekum, the act of the men storming his residence was unacceptable and that though he has lodged an official complaint with the police, he believes the incidence is one too many for people to remain quite over.
"Honestly, if I had a means of protecting myself, I would have. If I had a gun, do you think I would have left the people to go away just like that after threatening my wife?" he quizzed.

The CCTV captured video images of the incident that was played on the show displaying some alleged members of the team checking the chassis numbers and other details of the vehicles on the compound.

Mr Emmanuel Agyakum said the only person who introduced himself among the team was their leader who claimed to be a police Superintendent but the ID card he produced upon request shows he is a staff of Ghana Airports Limited.

He believes among others that a counter vigilante group by the NDC would face the NPP thugs squarely to stop this unnecessary attacks on innocent people.