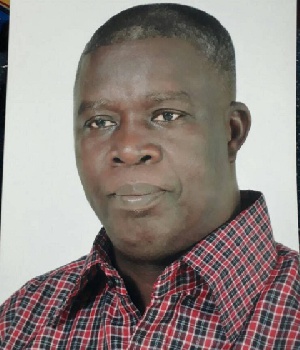 Fri, 8 Jun 2018 Source: Daniel Kaku
The Former Regional Chairman broke his silence yesterday, appealing to delegates of the NDC to consider competency in the determination of executive aspiring to lead the party from the grassroots to the top
The business mogul lost the chairmanship position to incumbent Regional Chairman Michael Aidoo popularly known as Big Aidoo prior to the 2016 elections.

Following that, Nana Toku has remained silent even when the regional executives had issues with the incumbent regional chairman for shepherding the party in the wrong direction.

His absence in the political terrain manifested when the outcome of the last general elections favored the opposition party.

Announcing his presence in the media however, Nana Toku said the party must consider competency, due diligence, commitment and loyalty to the NDC before selecting leaders for the party during the impending constituency elections slated this month.

Speaking to journalists, the experienced former Regional Chairman who, until his elevation to the top position, and subsequent defeat, had passed through the various ranks within the party from ward level, to constituency and later at the regional level, said it would require a stronger team capable of rewriting the narrative to bring back the NDC into government.
According to the Former Western Regional Chairman he took the opposition National Democratic Congress from opposition to government in the Western Region, and succeeded in increasing the number of seats for the party, whilst catapulting the presidential votes of the NDC when he was in power.

He said the same thing could be done if the right leaders were put in the right positions by delegates ahead of the 2020 general elections.

The Former Regional Chairman explained that although there were indications that the NDC could take over governance after 2020, it would still require the collective effort of all party members to actualize that dream.

He also assured supporters of the largest opposition party that he will remain devoted to the ideals and principles underpinning the organization and structure of the NDC.

He therefore appealed to foot soldiers to do same by developing interest in galvanizing the energies of the grassroots.
"You must begin working towards the next general elections which is just two years away" he said .

He further assured party members that he would assist in any capacity to actualize the party's aspiration of returning to government in the shortest possible time.

He also used the opportunity to announce his come back to contest as Western Regional Chairman of the party.
Source: Daniel Kaku