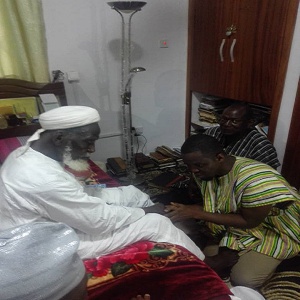 Wed, 14 Nov 2018 Source: Daniel Kaku
Abdul Aziz Mohammed, an aspiring National Executive of opposition National Democratic Congress (NDC) has received unadulterated anointing from the National Chief Imam Sheik Osman Nuhu Sharabutu.
The leading contender for the position of National Zongo Caucus Coordinator in the upcoming national elections of the party received the anointing when his campaign team paid a courtesy call on the Imam at his residence at Fadama in Accra.

The 'Zongo Commando' who shared his experience with journalists and the encounter he had with the Imam explained that the anointing received would obviously propel his campaign ahead of Congress on Saturday.

He said the prayers he received, projections his campaign team made coupled with the nationwide endorsement received from delegates, he was cocksure of victory on Saturday.

"I have toured the whole country interacting with delegates. I have listened to them, I have heard them right, I am now in the position to claim victory and dutifully serve my party in another capacity",

He added "Those who are supposed to campaign for me have done their part, those who are supposed to pray for me, they have done their part, those who guide my campaign steps have done it beautifully and those who are supposed to vote for me (delegates) would do it on Saturday'

The NDC, largest opposition in the country will go to polls this weekend, but Abdul Aziz Mohammed believes, in the category of Zongo caucus coordinator, he stands tall and therefore would secure the needed votes to clinch victory.
He said delegates have assured him of an overwhelming endorsement which would not only be unprecedented but heartwarming to the decision makers of the party.

"The party is in opposition, therefore the victory of 2020 would have to be decided by the collective spirit of members, against the dangers of incumbency. This means, the hard work of the elected national executive would be crucial", he urged.

The youthful aspirant said the energy of all executives of the party would also be critical, considering the circumstances surrounding national elections in the country.

"Delegates have told me that they can not compromise our chances as a party. Again, they said they can not gamble with inexperienced hands. And that they are voting for me and other competent materials vying for various positions to take charge of the party", he revealed.


Source: Daniel Kaku